Singapore bar 28 Hongkong Street has unveiled a new cocktail menu that invites customers to experience four new bar concepts in one location.
Appointed The 28HKS Pub Crawl, the new drinks menu is divided into four themes: Sin & Misery at the Oldham; Brenda's bad hand; Halogen; and 28 Hong Kong Street.
The four-part menu allows patrons to "hop" around four different bars in one location, each offering a wide range of drink styles.
"Our latest menu brings together the best of 28 Hongkong Street; innovation, creativity and all that makes 28 what it is," said bar general manager Chris Peart.
"Keeping it invigorated and fresh after the pandemic, we wanted to bring new experiences by introducing four new concepts, to allow our guests to soak up the unique vibes without having to travel the world."
Each of the 32 cocktails on the menu "comes to life" with "unconventional" flavor combinations.
The Sin & Misery at the Oldham section of the menu depicts an intimate, 'elegantly wasted' hotel bar.
Services include a "refreshing and savory" Brick Lane martini made with Hendricks and Hendricks Orbium gins, Mancino Secco vermouth, red onion and "Brick Lane" seasoning; as well as a "boozy" Midtown Manhattan, created with a blend of Rémy Martin VSOP cognac, rich Sherry ratafia liqueur and amaro.
Branda's Bad Hand section is said to symbolize "Singapore's Best Honky Tonk Bar" and features complex dishes including the Pickleback Sour created with Michter's Rye, Mancino Bianco Vermouth, Cucumber, Dill and albumin; and Brenda's breakfast, described as "a breakfast in the form of a cocktail" and featuring Michter's bourbon, monkey shoulder, brown butter, salted maple and smoke.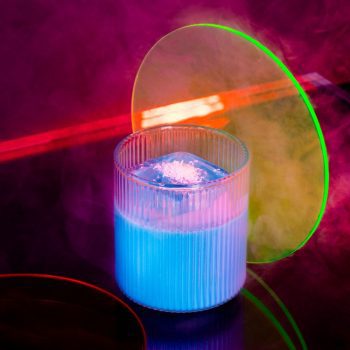 The menu's Halogen neighborhood offers an "electrifying" '90s-inspired nightclub experience, with fun, techno and disco-themed drinks.
Guests are invited to "join the dance floor" for a tropical Hue Bluwaiian, made with Plantation Pineapple Rum, Coconut, Blue Curaçao, Sherry and Lime.
In the last section of the menu, which pays homage to the original bar concept of 28 Hongkong Street, eight drinks are offered, including Black Forrest Negroni made with Diplomatico Mantuano rum, Campari, cocoa bean, Mancino Rosso vermouth, Taylors Ruby Port and dry cherry; and the Veg-O-Matic, a blend of Widges Dry Gin and Citadelle Original Gin, infused with yellow pepper, Fino Sherry, basil and lemon.
Each concept is accompanied by menu illustrations that convey the theme of each chapter.
The menu has a Spotify code on each section that offers musical suggestions to accompany the services.
Last week, wine and spirits trade show Prowine Singapore staged its return.